All-In-One Tax
Credit Optimizer
Our first-of-its-kind software platform analyzes R&D-related transactions and prepares tax forms for you.
If we don't find R&D credits, you pay $0.
Ardius' type A technology uses AI-powered automation to process countless transactions with the precision of a top accountant.
Our machine learning algorithms uncover your maximum credit for this tax year and power automatic lookbacks.
See the status of your credits, access documents and reports, and manage users all in one place.
We play nicely with your payroll and accounting platforms, and have direct API integrations with Gusto and QuickBooks.
Access auto-generated reports, vetted by experts, to substantiate and defend your R&D credits.
Add your accountant and other roles to easily track credits and filings.
Our platform's 256-bit encryption protects your data, always.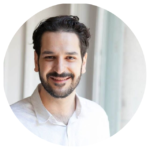 "As a tech company, a large part of our budget goes to R&D. A small investment of time with the phenomenal team at Ardius led to huge savings. I'd highly recommend them to anyone who asks."
Joaquín Roca,
CEO
Other Features & Benefits
Take our tax credit optimizer for a test drive.